OpenProj as a free alternative to MS Project
Application OpenProj is a free, open source desktop alternative to Microsoft Project. It is a useful software tool to manage even more complex projects and track tasks and project timeline.
The tool has a simple and easy-to-use interface which allows you to create work-breakdown structure (WBS), monitor the resources, track the estimated and real duration of each task and also the dependencies between tasks. These are displayed in Gantt chart (see below).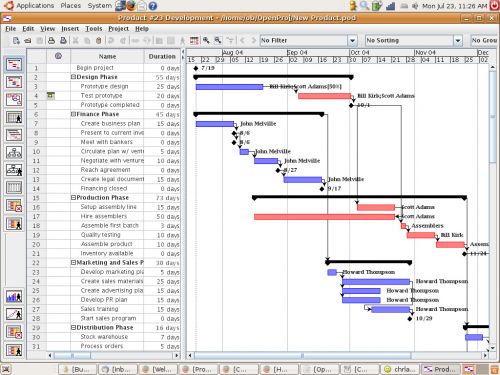 The list of funcions is not exhaustive, please see the website of the provider Projity for further details.
Having briefly tested it, I can recommend this project management software. Any comments about your experience with this or similar software are welcome.
---
News Subscription
Get briefly informed on current articles and news by adding Mira Vlach's RSS feed to your feedreader or subscribe your email address to monthly newsletter:
Privacy policy: Your email address will be kept strictly confidential and never disclosed to anybody. Newsletter comes in a short textual form once or at most twice a month. You can cancel your subscription anytime by following link listed at the bottom of every email.
---